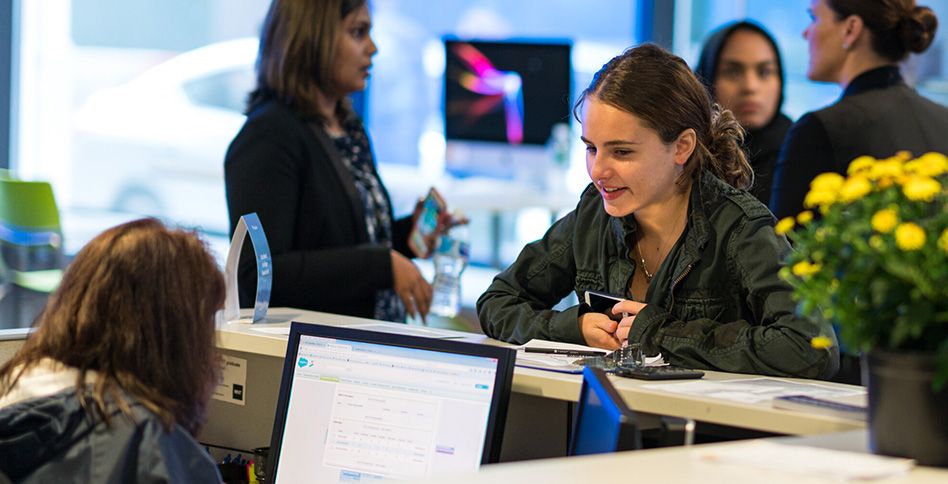 Academic and Enrollment Support Services
New York Institute of Technology offers students a wide range of academic and enrollment support services. These services range from supplemental academic programs available to specific students, to resources available to all undergraduate students including academic advising, tutoring, and enrichment programs. Students are encouraged to take advantage of the available services that are designed to assist students in successfully achieving their academic and career goals at New York Institute of Technology.
Arthur O. Eve Higher Education Opportunity Program (HEOP):
New York Institute of Technology sponsors and administers the Arthur O. Eve Higher Education Opportunity Program (HEOP) on the New York City campus in conjunction with the New York State Department of Education. To be eligible for the program, students must be New York State residents whose educational experience and economic status indicate a need for academic and financial assistance to complete a college degree. The program provides a wide range of support that includes a five-week summer program for all incoming first-year students, strengthening of study skills, tutoring, individual and group counseling, and financial assistance. Participation requires enrollment in a full-time program at the New York City campus. For additional information, please visit nyit.edu/heop.
EduPlus Program:
Please note: the EduPlus program has been suspended for the 2021–2022 academic year. New York Institute of Technology established EduPlus as part of its mission to improve access to opportunity for qualified students. The program provides supplemental enrichment for motivated students who would benefit from additional academic and personal support to reach their full potential. Freshmen applicants who demonstrate a passion for learning and a strong willingness to work toward their goals, but whose grades and test scores do not meet the university's regular admissions criteria, may be considered for admission by way of the EduPlus program at the Long Island or New York City campus. EduPlus provides a wide range of additional support that includes a required weekly skill-building class, academic monitoring, targeted individual tutoring, and personal and career counseling.
Academic Advising
New York Institute of Technology recognizes that academic advising is a critical component of the educational experience. As a result, a range of advising resources are available to assist students in creating meaningful educational plans that are compatible with their career goals. These resources include advisors from the Advising and Enrichment Center (AEC), faculty advisors, peer advisors, and a comprehensive website with tools such as semester maps, advisement preparation guidelines, and how-to guides.
First-Semester Academic Advising:
Incoming first-year students are advised by an AEC advisor for their first semester's courses. In addition to providing course selection guidance, AEC advisors discuss career plans, degree requirements and progress, introduce academic resources, and assist students with online course registration. For those requiring a placement exam, first-semester advisement occurs following exam completion. Students transition to a faculty or staff advisor associated with their major for advisement in subsequent semesters though proactive AEC support continues throughout a student's first year.
Faculty Advisor:
Once advised for their first semester, students will meet with a faculty or staff advisor associated with their major for academic advisement. Advisors guide students with their educational planning and provide career-related advice. In order to ensure all curriculum requirements are being satisfied, students are required to meet with an advisor before registration each semester. Although advisors guide students through this process, the student must assume final responsibility for conforming to all college regulations and completing degree requirements. Advisor schedules are available at nyit.edu/advising/find_an_advisor.
Advising and Enrichment Center (AEC)
The Advising and Enrichment Center (AEC) offers advisement support and resources, as well as academic support services and programs to undergraduate students.
AEC Advisors are professional, generalist advisors who serve as first-semester advisors to incoming first-year and transfer students. Additionally, though students receive primary advisement from assigned faculty or staff within their academic departments, the AEC provides supplemental advising and graduation planning support to all current undergraduate students. Students who need assistance with major exploration are also encouraged to visit the AEC to receive guidance on academic major options as well as the change-of-major process. For additional information, please visit nyit.edu/advising.
Peer Advisors (PAs) are undergraduate upperclassmen who work under the supervision of the AEC and provide support to undergraduate students in matters related to advisement and registration. Peer Advisors assist with the explanation of degree requirements, planning of future coursework, and navigation of online tools such as NYITConnect, schedule planning tools, and online registration. Peer Advisors also assist students with adjusting to university life by helping them become familiar with the policies and procedures outlined in the course catalog and student handbooks. For additional information, please visit nyit.edu/advising/peer_advising.
Academic Check: Each semester, progress reports are requested for students who may benefit from additional attention or support, such as first-year students, new transfers, and students on academic probation. Once received, AEC advisors connect with the student to discuss their progress, positive or negative, based on the faculty's feedback. Additional resources are suggested, as needed, in order to help students achieve success.
Support for Students on Academic Probation: Students who are placed on academic probation are notified of their standing via email from the Office of the Registrar. Each student is required to meet with an advisor from the Advising and Enrichment Center (AEC) to create an individualized plan for academic success and is further encouraged to utilize campus resources (advising, tutoring, and counseling) to improve their academic standing. Students on academic probation are required to meet with an AEC advisor prior to registering for classes.
Save Our Student (SOS) Early Alert Initiative allows faculty and staff to identify students who are demonstrating unsatisfactory progress or concerning academic behavior in their course (e.g., low in-progress grades, academic disengagement, or high rates of absenteeism) during the semester. AEC advisors receive the alert and follow up with the student to address the underlying issues that may be affecting their academic performance, create a plan for academic success, and/or refer the student to an appropriate department. For more information, visit the Save Our Student Initiative.
In addition to offering advising support, the AEC team is committed to providing enrichment services and programs that help students reach their academic and career goals. Some such services are described below.
Academic Support Services
The Learning Center helps students meet their academic goals by providing free tutoring and skill-building workshops. Experienced peer tutors offer assistance in a wide range of undergraduate courses, some graduate courses, and skill-building subjects, such as time management and study skills, in a one-on-one, online, or small group setting. Learning Center peer tutors are also available to meet with students virtually through a dynamic online tutoring platform. For additional information, please visit nyit.edu/tutoring.
Online Tutoring is available to all enrolled students. This service supplements Learning Center hours by offering real-time online tutoring for a variety of subjects, some of which are available 24 hours a day, seven days a week. Students can access online tutoring from their my.NYIT student portal. For additional information, please visit nyit.edu/tutoring.
Supplemental Instruction (SI) is a non-remedial academic support program that targets historically challenging courses in an effort to increase student performance for those who participate in the program. Students who have successfully completed one of these courses, and are recommended by the faculty, are chosen as SI leaders to facilitate regularly scheduled out-of-class SI sessions for students enrolled in the assigned course. SI sessions help further students' understanding of course concepts by reviewing notes, discussing readings, developing organizational tools, and preparing for examinations. For additional information, please visit nyit.edu/si.
The Math Resource Center provides free help with all math courses, including placement assistance, exam preparation, and background information. Patient and caring faculty from the math department provide tutorial assistance for all levels of mathematics. We deal with any anxiety you may be experiencing as well as the math concepts. Students are seen by appointment (preferred) or drop-in. For additional information, visit nyit.edu/tutoring or email math@nyit.edu.
The Science Learning Center (SLC) is designed to help students enrolled in science courses perform better and excel in those courses. The objective of the SLC is to allocate additional time outside of the classroom for our students to review and enhance their understanding of the concepts discussed during lectures and/or labs. SLC is staffed by experienced teachers ready to assist students in science-related challenges and overcome the anxiety that often goes along with them. SLC provides free support for selected science courses including background concepts. For additional information, visit nyit.edu/tutoring.
The Writing Center provides tutorial assistance for all types of writing assignments and tasks. Students are encouraged to visit the Writing Center to speak with professors of English about their writing assignments. The faculty will help brainstorm for assignments, review drafts, develop ideas, and address grammar questions. For additional information, visit nyit.edu/tutoring.
The Wireless Laptop Writing Lab is an area where students can work on laptop computers to draft assignments and do research on the Internet through a wireless Internet connection. It is a quiet and comfortable space where students can spread work out on large tables or sit in cozy chairs and do work. The lab is located on the Long Island campus at the Writing Center in Balding House, Room 100. Students may also feel free to talk to professors as they are working on assignments. For additional information, visit nyit.edu/tutoring.
Enrollment Services Center
The Enrollment Services Center (ESC) is committed to helping students stay on track both academically and financially to maximize their educational experience. All first-year students work with a personal ESC Senior Specialist who is dedicated to enhancing student satisfaction and retention by streamlining all administrative procedures including those relating to financial aid, billing, registration, and advisement. The ESC provides a wide range of services intended to promote student success and retention including:
Assigning each first-year undergraduate student an ESC Senior Specialist who can help navigate the transition from high school to college, and provide campus connections in a welcoming and supportive way
Providing personalized guidance for first-semester undergraduate students
Interpreting administrative policies and procedures in the areas of financial aid, billing, registration, and advisement in support of students' academic and financial objectives
Assisting students with registration issues (e.g., online registration process, dropping/adding or withdrawing from courses, changing majors, and more)
Answering general questions concerning New York Institute of Technology and helping resolve student issues/concerns
Department of Military and Veterans Affairs
New York Institute of Technology's Department of Military and Veterans Affairs (DM&VA) focuses on establishing innovative programs and services aimed to foster a culture of individual student success, inclusion, and academic achievement for all military-affiliated students.
The department takes a holistic approach to address and mitigate the stress related to the transition from military to civilian life. Prospective students receive assistance with admissions, enrollment, and VA benefit applications and process. Programs and initiatives developed focus on identifying and addressing persistence inhibitors that effect the military-affiliated community.
The Veteran Transition Mentor (VTM) program provides incoming military-affiliated students with a one-on-one support system for the first year of college, with an option to continue. Having an assigned knowledgeable and experienced VTM equips student veterans with the necessary confidence and peace of mind to navigate their transition.
New York Tech's Student Veteran Organization provides peer-to-peer support and services for fellow veterans and sponsors special veteran-related events. Our nationally recognized chapter affords the military community access to an established network of student veterans and the opportunity to build and cultivate friendships.
Theresa Abraham, Specialist
Nancy Borchers, School Certifying Official
View additional information about veteran admissions
Graduate Students
Advisement
Each student is assigned an advisor for assistance in structuring a program. New York Institute of Technology posts a list of program advisors at registration time. The student's advisor is available for help and guidance, and the advisor's approval is required for each registration. Students are ultimately responsible for conforming to all college regulations and completing curriculum requirements.
Program Loads
Graduate programs can be part-time. As part-time, students are normally allowed to carry six credits or two courses per semester. A program beyond six credits may be permitted if a student has provided evidence of the ability to complete such a program successfully. A full-time 12-credit program is normally authorized only for students who are not employed. U.S. Immigration and Naturalization Department regulations require international students with F-1 visas to pursue a full-time course of study. At New York Institute of Technology, full-time is defined as a minimum of nine credits per semester at the graduate level.
Course Offerings and Locations
The courses in this catalog represent academic offerings for each discipline. Specific courses are given in accordance with student demand. The complete schedule of courses, which includes section listings, times, and locations, is available online.