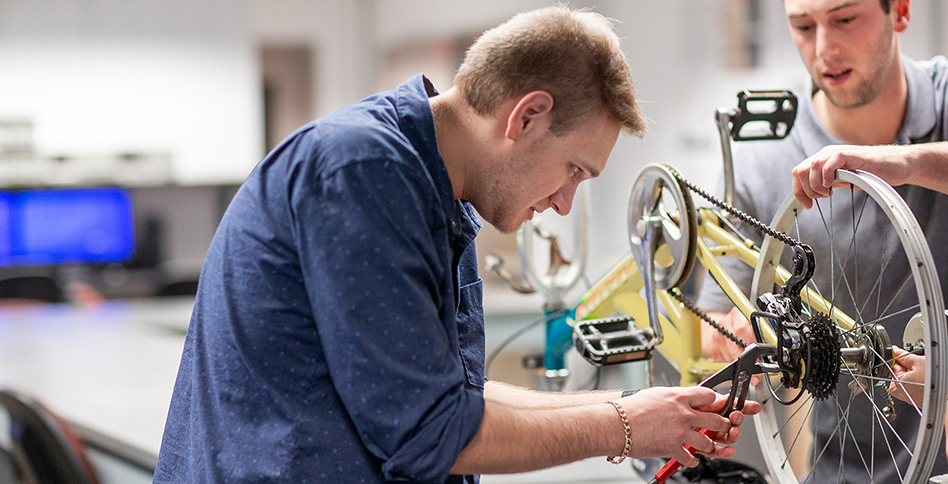 Graduate Programs: College of Engineering and Computing Sciences
Babak Beheshti, Ph.D., Dean
Frank Lee, Ph.D., Chair–Long Island
Aydin Farajidavar, Ph.D., Chair–Long Island
Yoshikazu Saito, Ph.D., Chair–New York City
Xun Yu, Ph.D., Chair
Robert N. Amundsen, Ph.D., Director
Mission
The College of Engineering and Computing Sciences offers high-quality undergraduate, graduate, and doctoral programs to prepare students for advanced studies and challenging positions in business, government, and industry. We are guided in this mission by tenets embraced by New York Institute of Technology: the professional preparation of students, applications-oriented research, and access to opportunity for all qualified students.
Integral to success are our faculty's dedication to teaching, scholarship, and service; the support of alumni, industrial advisory boards, friends, and employers; and the college's state-of-the-art facilities that provide students with a solid foundation for achievement.
To accomplish our mission, the College of Engineering and Computing Sciences:
Offers a broad range of outstanding, accredited academic programs
Supports faculty members who are effective teacher-scholars committed to a student-centered, stimulating learning and research environment
Engages students in applied projects, innovative design, and computing solutions to real industry questions
Fosters connections and partnerships with employers, alumni, and the community at large
Provides the physical space and modern facilities that befit a premier university
Vision: Engineering for Society: Innovating for a Better World!
At NYIT College of Engineering and Computing Sciences, students have the opportunity to work on 21st-century technological challenges that directly affect the world in which they live. The college is known as "the place" where innovators, engineering firms, public utilities, and federal and state agencies seek talented faculty and students to advance their projects, inventions, and technologies in the classroom, the lab, the field, or on site. By the time they graduate, our "industry ready" students are equipped with the fundamentals needed to pursue graduate studies and are prepared to join the workforce with minimal on-the-job training.
Scholarships, Accelerated Master's Option, and Assistantships
There are several scholarship programs, specifically designed for the College of Engineering and Computing Sciences, that benefit incoming students:
Scholarships: Graduate students in excellent academic standing and/or enrolled in the Accelerated Master's Degree Program have priority access to university scholarships, such as the Alumni Recognition Award and the Graduate Scholarship Award.
B.S. with Accelerated M.S. Option: designed exclusively for current undergraduate students in the College of Engineering and Computing Sciences who have continuously demonstrated academic excellence. The five-year B.S.-M.S. combined option provides juniors with a cumulative GPA of at least 3.2 an opportunity to complete both their bachelor's and master's degrees in five years. Students are encouraged to take three approved graduate courses during the undergraduate degree as part of the curriculum. These courses will later be counted again in the graduate degree when students formally apply for the graduate program.
Graduate Assistantships: Provided to select students to help them excel in the College of Engineering and Computing Sciences' graduate programs. Admitted graduate students may take part in a teaching or research assistantship for the department in which they are studying.
For more information about the APMD Five-Year B.S.-M.S. Combined option, visit the College of Engineering and Computing Sciences' webpage.