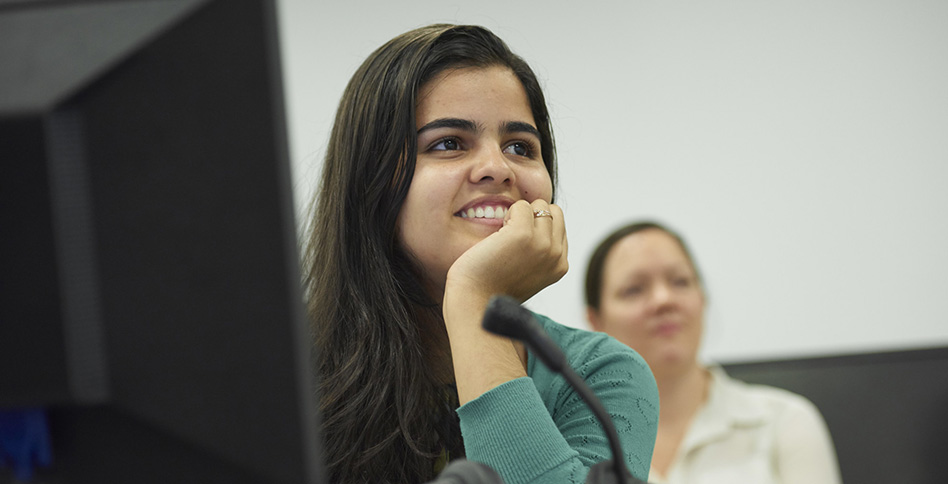 Master of Science in Mental Health Counseling
Program Mission
The mission of this fully online Mental Health Counseling program is to prepare graduate students to become Licensed Mental Health Counselors (LMHC) who will be prepared to provide individual, group, and family therapy as well as health counseling, occupational and vocational counseling, career planning, crisis intervention, and outreach services. Clinically competent and skilled candidates will be prepared to provide these services both in human service and educational settings, such as social services agencies, employment centers, mental health agencies, community counseling agencies, substance abuse programs, employee assistance programs, and health-related facilities. Faculty members seek to mold skilled student clinicians whose practice ethic reflects a deep commitment to social justice, cultural sensitivity, and technological awareness to the ever-changing human services landscape. Graduates of the 60-credit master's program will be prepared to sit for the New York State Mental Health Licensing Examination and practice with a limited permit under the supervision of a licensed mental health counselor or a licensed clinician in the fields of medicine, nursing, psychology, or social work.
Degree Requirements
Foundation Courses: 21 credits
Core Knowledge and Skills: 18 credits
Advanced Courses: 15 credits
Elective Courses: 6 credits
Total Program Requirement = 60 credits
Program Objectives
Upon completion of the Master of Science in Mental Health Counseling program, students will be able to:
Advocate for issues and concerns related to a culturally diverse society while functioning as a mental health counselor
Perform all functions identified for the appropriate mental health counseling setting
Consult effectively with personnel and clients
Provide individual and group counseling to a diverse client population
Apply data-driven or problem-solving methods and action-oriented programs that use career development and evaluation concepts
Understand the relationship among human growth, development, and the helping relationship over the life span
Initiate, conduct, and evaluate clinical assessments, research, and outreach interventions
Understand the relationship between counselor self-understanding, wellness, and effectiveness
Understand the role and functions of the licensed mental health counseling professional, including ethical and legal standards, credentialing and licensure, and the role of professional associations and organizations
Identify and employ assessment instruments to effectively evaluate specific client problems or concerns
Assign a diagnosis to a client based on the appropriate classification system being used in the field
Develop a treatment plan for a client based on the client's diagnosis and theoretical models
Use appropriate counseling techniques to engage the client in the interviewing process, to build and maintain rapport, and to establish a therapeutic alliance
Unique Features
Preparation for the New York State Mental Health Counselor Licensure Examination
Extensive practicum and internship experience (700 hours total)
Innovative practices and models for effective mental health counseling
Opportunity to develop skills in counseling, leadership, social justice, teamwork, advocacy, collaboration, consultation, and use of data to inform practice
Expertise using technology as a support, research, and management tool
Unique cross-disciplinary approach that fosters understanding and collaboration
Student Outcomes
The M.S. in Mental Health Counseling program is organized around competencies that mental health counselors need to successfully meet the challenges and priorities of the 21st-century. The program and course work utilizes the standards and practices of CACREP (2016).
Mental Health candidates will demonstrate the knowledge and skills to serve in and address a wide range of clinical issues within the context of clinical mental health counseling:

Develop the understanding of cultural factors relevant to mental health counseling and learn how to serve complex and diverse populations
Understand the impact of crisis and trauma on individuals with mental health diagnoses
Understand principles, models, and documentation formats of biopsychosocial case conceptualization and treatment planning
Understand legal and ethical considerations specific to clinical mental health counseling
Become familiar with record keeping, third-party reimbursement, and other practice and management issues in clinical mental health counseling

Mental Health candidates will acquire the knowledge and skills to consult and work collaboratively with other stakeholders (administrators, parents/caretakers, other community health practitioners, medical practitioners) to ensure client mental health wellness:

Become familiar with the community-based resources (e.g., mental health centers, community-based organizations, business, service groups) to secure assistance for clients and/or their families
Demonstrate through verbal, written, and presentation skills the ability to communicate and collaborate with clients' family, administrators, other mental health/caseworkers, and stakeholders for the interest of the clients
Apply knowledge of systems theories to community and family relationships
Share knowledge of clients' development, clinical progress,, and behavior management
Develop strategies to advocate for clients who need specialized mental health assistance and support
Apply a social justice agenda to eliminate inequities in policies and practices

Mental Health candidates will apply counseling theories and practices under supervision as appropriate in a mental health setting:

Demonstrate the appropriate use of counseling theories and techniques with clients
Use counseling skills and counseling processes that respect all aspects of diversity including race, ethnicity, culture, religion, socio-economic differences, learning abilities, physical, mental, or emotional disabilities, and/or sexual orientation.
Demonstrate intake interview, mental status evaluation, biopsychosocial history, mental health history, and psychological assessment for treatment planning and caseload management
Demonstrate techniques and interventions for prevention and treatment of a broad range of mental health issues
Provide effective individual and group counseling to clients that are developmentally appropriate

Mental Health candidates will demonstrate responsibility for their own learning and professional development:

Join a local, state, and/or national professional association
Attend professional conferences and workshops annually
Understand the relationship between counselor self-understanding and effectiveness
Demonstrate knowledge of the role and responsibilities of the professional counselor, including scope of practice, ethical guidelines, state and federal laws and regulations, credentialing and licensure, and the role of professional organizations
Develop a portfolio to illustrate their personal and professional growth and development
Candidates will complete a competencies analysis to ensure that all program competencies are met. This analysis will be a component of the graduation portfolio, which will be submitted in the final semester.
---
Back to Top
Admissions Requirements
College graduates with GPAs of 3.0 or higher may enter from a variety of backgrounds, including, but not limited to, education, the helping professions, business, and industry.
Applicants for the Master of Science in Mental Health Counseling must:
Submit a graduate application and a personal essay outlining the rationale and reasons for choosing New York Institute of Technology and the mental health counseling profession, as well as career objectives upon graduation
Submit a writing sample
Provide three letters of references from employers and professors
Participate in a face-to-face interview with the program coordinator
Academic Standards and Criteria
A 3.0 GPA must be maintained throughout the program
Academic Probation
Student will be placed on academic probation if any of the following circumstances occur:
GPA for any one semester falls below a 3.0
Cumulative GPA falls below 3.0
Grade Appeal
Students may appeal an assigned grade by following the procedures outlined in this Academic Catalog and the Department of School Counseling Student Handbook.
Academic Dismissal/Failure
A student may be dismissed from the Mental Health Counseling Program if any of the following occur:
Cumulative GPA falls below 2.5 at the end of the first semester
Cumulative GPA falls below a 3.0 at the end of the spring semester of the first year
After the first year, a cumulative GPA that falls below a 3.0 for two consecutive semesters
Grade of F is earned in a course. Students may be given the option to repeat the course the following year, provided they were not already on probation (student may not repeat the course more than once and must earn a B or above in the course)
Second F is earned at any time throughout the curriculum
Failure and dismissal from practicum or Internship I or II courses or placement
Non-Academic Dismissal/Failure
Students may be dismissed from the program for the following non-academic reasons:
Academic dishonesty/plagiarism
Behavior endangering others' safety or well-being
Disrespectful behavior toward faculty, staff, students, and others
Unprofessional conduct as defined by the professional behaviors delineated in the Department of School Counseling Student Handbook
Unexcused absences/lateness
Please refer to the Department of School Counseling Student Handbook for other pertinent departmental policies.
Graduation Requirements
As per the academic catalog, students must:
Achieve a minimum 3.0 GPA.
File a completed application for graduation with the Student Enrollment Center.
Obtain account clearance from the Office of the Bursar.
Transfer Credit
Transfer credit from other accredited colleges and universities is accepted up to a maximum of six graduate semester hours if the courses to be transferred are relevant to the Master of Science in Mental Health Counseling, the grades earned for the courses are B or better, an official transcript has been submitted, and the courses have not been previously applied toward a degree.
Fellowships and Assistantships
Various types of research assistantships are available to qualified students. Admission to the graduate program does not guarantee financial assistance.
For additional information, contact:
Dr. Daniel Cinotti
Director of Counseling Programs
Behavioral Sciences Department
212.261.1541
dcinotti@nyit.edu
Erin Fabian
Student Advisement Specialist
Behavioral Sciences Department
212.261.1529
efabian@nyit.edu