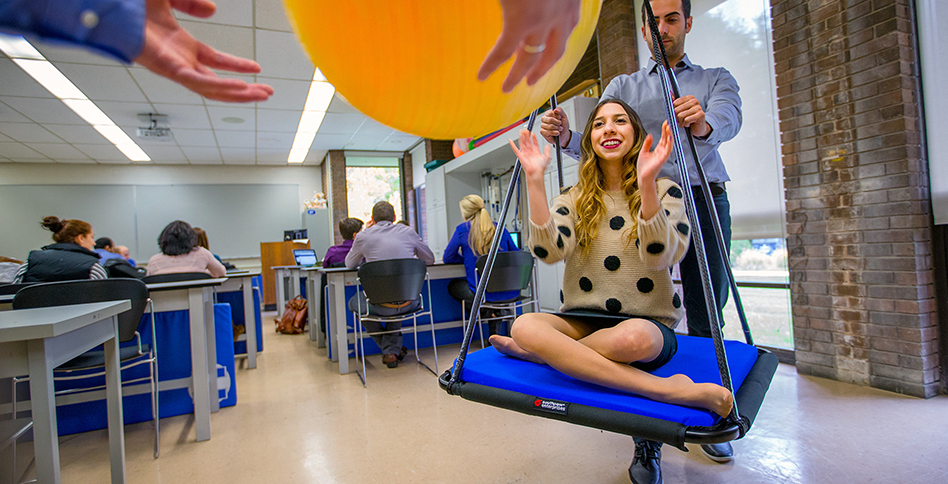 Occupational Therapy, M.S.
The Master of Science in Occupational Therapy prepares students for a career in occupational therapy, a health profession in great demand. Occupational therapy is the use of purposeful activities (occupations) with clients (individuals, communities, organizations, and populations) to promote health and wellness, maximize independence, prevent further disability, and maintain health. Clients who may benefit from occupational therapy include those with impairments, activity limitations, and participation restrictions due to physical injury, illness, psychosocial dysfunction, developmental or learning disabilities, socioeconomic status, cultural differences, or the aging process. Occupational therapy practice encompasses evaluation, intervention, outcomes, and consultation.
Occupational therapy services are setting dependent and may include:
Comprehensive client evaluation to determine a client's needs.
Environmental assessment/adaption/modification recommendations to facilitate and/or improve client independence.
Driver evaluation, assistive technology training, and wheelchair assessment.
Orthotic evaluation and fabrication.
Community program development to address population needs.
Pediatric assessment and intervention to facilitate developmental milestones, play, and social skills.
Assessment and interventions to facilitate independent living skills.
The Occupational Therapy master's program is accredited by the Accreditation Council for Occupational Therapy Education (ACOTE) of the American Occupational Therapy Association (acoteonline.org). The program is approved by the New York State Education Department. Graduates of the program are eligible to sit for the national certification examination for occupational therapists administered by the National Board for Certification of Occupational Therapy (NBCOT). After successful completion of this exam, the individual will qualify for certification as a registered occupational therapist. Most states also require licensure in order to practice; eligibility for state licenses is usually based on the results of the NBCOT examination, in addition to other requirements.
Accreditation Council for Occupational Therapy (ACOTE)
6116 Executive Boulevard, Suite 200
North Bethesda, MD 20852-4929
301.652.6611
accred@aota.org
Note: Applicants to the School of Health Professions should be aware that certain legal issues and/or convictions may preclude a student from being accepted by clerkships, internships, and/or fieldwork, and impact the student's ability to complete the required program courses and qualify for graduation, certification, and/or licensure.
Technical Standards for Admission and Matriculation in the Occupational Therapy Program
The Department of Occupational Therapy is committed to the admission and matriculation of all qualified students and does not discriminate on the basis of race, ethnicity, age, gender orientation/identification, national origin, religion, sexual preference, or disability. The college does not discriminate against persons with a disability who are otherwise qualified. The college does expect that minimal technical standards are met by all applicants and students as set forth herein. These standards reflect what has been determined to be reasonable expectations for occupational therapy students in performing common and important functions, considering the safety and welfare of patients. These standards may not reflect what may be required for employment of the graduate occupational therapist.
Technical Standards
An occupational therapist must have the knowledge and skills to function in a broad variety of clinical settings and to render a wide spectrum of therapeutic interventions. In order to perform the activities required of a professional, an occupational therapy student must be able to learn, integrate, analyze, and synthesize data quickly, accurately, and consistently. This is the process of critical thinking. Multiple skills and abilities that are required include observation, communication, sensory/motor, behavioral, and social attributes. Reasonable accommodation can be made for persons with disabilities in some of these areas, but an occupational therapy student must be able to perform in a reasonably independent manner.
Students must have the ability and/or commitment to:
Work in an intense setting that challenges the individual to meet the needs of people of diverse cultures and age groups who are ill, severely injured, limited by cognitive, emotional, and functional deficits, and whose behavior may create, at times, an adverse reaction. The ability to interact with these individuals without being judgmental or prejudiced is critical in establishing a therapeutic relationship.
Communicate verbally and in writing, using appropriate grammar and vocabulary, in order to build relationships with faculty, advisors, fellow students, coworkers, clients, and their significant others. Proficiency in communication includes transactions with individuals and groups in learner, collegial, consultative, leadership, and task roles. Students must be able to elicit information, gather information, describe findings, and understand nonverbal behavior. This includes the ability to read and communicate, both verbally and in writing, in English, using appropriate grammar and vocabulary.
Travel independently to and from classes and fieldwork assignments on time, as well as possess the organizational skills and stamina for performing required tasks and assignments within allotted time frames. (This travel is at the student's expense.) A driver's license and a car are needed for on- and off-campus travel.
Adhere to the policies of the school, of the occupational therapy program, and of the fieldwork sites. These rules include matters relating to professional dress, behavior, and confidentiality.
Demonstrate professional competence and moral character that meet state licensure guidelines.
Show emotional health for full utilization of intellect, the exercise of good judgment, prompt completion of responsibilities, and the development of mature, sensitive, and effective relationships with others. Working with people in need often requires taxing workloads and adaptation to changing and challenging environments, requiring flexibility and a spirit of cooperation.
Use critical-thinking skills in order to be able to solve problems creatively, to master abstract ideas, and to synthesize information in order to handle the challenges of the academic, laboratory, and fieldwork settings.
Exhibit physical coordination and strength to handle moving clients and to direct clients in varied practice settings. Visual acuity and independent mobility, fine and gross movements, equilibrium, and the use of touch (touching and being touched) are essential to assure safety of clients, significant others, and staff.
Abide by the Code of Ethics of the profession and behavior which reflects a sense of right and wrong.
Program Format
The master's degree program in occupational therapy is 78 credits, covered in five semesters of academic coursework followed by two semesters of fieldwork experience. Students may opt to participate in an additional specialty fieldwork placement. The curriculum follows a specific sequence where courses build upon each other as the program progresses, and as such, the sequence must be followed. The program is taught in a full-time day format, with possible evening and weekend coursework requirements. Attendance at all class sessions is mandatory. Occupational therapy academic coursework is taught at the Long Island campus.
Clinical/Fieldwork Education
Students must have successfully completed all prior academic coursework in order to be placed in fieldwork education. Students are required to complete 24 weeks of full-time fieldwork at selected sites and may opt into a third, specialty fieldwork placement. The specialty fieldwork can range in duration from 8 to 12 weeks depending on the requirement of the fieldwork site. While doing fieldwork, students are required to assimilate to the host site work schedule. Students are discouraged from outside employment. Students may have to travel or relocate during the fieldwork phase of the program. Transportation and housing are the responsibility of the student.
Prior to entering fieldwork courses, students must show evidence of:*
Required immunizations and health clearance (including medical history and physical examination)
Test for tuberculosis infection: Current PPD (2-step) QuantiFERON or chest x-ray with negative signs and symptoms (within one year)
Health insurance
CPR certification for the Healthcare Professional with AED
HIPAA training certification
Infection Control certification
Fingerprinting and/or background checks are site specific
* Students are required to maintain current student membership in the American Occupational Therapy Association (AOTA). It is also highly recommended that students join the following professional associations as student members:
Expenses incurred in fulfilling these and other requirements are the student's responsibility.
Academic Standards
Students are discouraged from full-time employment due to the rigorous nature of the program.
Academic Criteria
The following criteria must be met throughout the professional phase of the occupational therapy program.
Maintain a 3.0 GPA each semester.
A minimum of a C or greater is required in all courses.
Students may repeat a failed course only once.
Students receiving more than one F in a semester may be dismissed from the program.
Professional behaviors are considered in all decisions regarding academic and professional performance.
Academic Probation
Automatic academic probation is imposed under the following circumstances:
Semester GPA falls below 3.0
Cumulative GPA falls below 3.0
Incomplete or failure in fieldwork
Dismissal/Failure
A student on academic probation during the previous semester may be dismissed from the occupational therapy program after review by the Department Academic Review Committee for the following reasons:
Semester GPA falls below 3.0 in two consecutive semesters
Overall GPA falls below 3.0 in two consecutive semesters
Student receives a grade of F in any course, including fieldwork
Unprofessional behaviors have not been corrected after intervention by the instructional staff. Aspects of professional conduct are defined in the Occupational Therapy Student Handbook.
Graduation Requirements
Students are recommended for graduation upon satisfactory completion of all academic and clinical/fieldwork education requirements. The following are required:
Satisfactory completion of all required courses
Overall GPA of 3.0
Filing of a completed application for graduation
Bursar account clearance
Recommendation of the occupational therapy faculty and the Academic Review Committee
Grade Appeal Policy
The School of Health Professions' grade appeal policy can be found on Facilities and Resources.
---
Back to Top
Admission Requirements
Bachelor's degree or its equivalent from an accredited college or university
Minimum cumulative undergraduate GPA of 3.0
Academic record that includes a balance of coursework in the humanities, social sciences, mathematics, and life sciences, as well as competence in written and spoken English. Basic computer skills (preparation of documents, spreadsheets, graphs, databases, research, and presentations) are required.
Satisfactorily complete the following prerequisite courses* at an accredited college with a grade of B- or higher in all math or science courses, and a minimum grade of a C+ in all other non-science prerequisite courses. Pass grades earned during the spring 2020 semester meet this GPA threshold and are transferable to New York Institute of Technology. All science courses must be for science majors. Only one math or science course can be retaken one time to achieve the required grade. Course descriptions are required for each of the prerequisites.

One course in General Biology with Lab (four credits)
One course in General Chemistry with Lab (four credits)
One course in Human Physiology with Lab or Anatomy and Physiology I with Lab (four credits)
One course in Human Anatomy with Lab or Anatomy and Physiology II with Lab (four credits)
One course in General/Introductory Psychology (three credits)
One course in Developmental or Child Psychology (three credits)
One course in Abnormal Psychology (three credits)
One course in Statistics (three credits)
One course in either Anthropology or Sociology (three credits)
One recommended course in Academic or Scientific Writing (three credits)

Meet the Technical Standards for the occupational therapy program
* If you have a bachelor's degree and have not completed all prerequisite courses for admission, you may be provisionally accepted to the program. After completion of these prerequisite courses and satisfaction of all other academic and professional standards, you may be admitted into the professional phase of the program.
Note: The Occupational Therapy program does not award or grant advanced standing under any circumstances. All courses in the curriculum must be completed within the program.
Application Materials
Submit your application through the Occupational Therapist Centralized Application Service (OTCAS). A completed application must be received by the program from OTCAS between August 1 and February 21. The priority application due date is October 1. Specific instructions related to the application process can be found on the OTCAS website.
Proof of 100 hours of volunteer work under the supervision of a licensed occupational therapist
An essay detailing the desire to pursue occupational therapy as a career
Three professional letters of recommendation on letterhead, including one from a licensed occupational therapist. Recommendations must be dated within the past six months. References should be sent in sealed envelopes with the referee's signature over the seal. Signed recommendation letters can also be submitted through OTCAS.
Course descriptions for all prerequisite courses
A personal interview (for those applicants who qualify)
An on-site essay on an assigned topic
Copies of undergraduate transcripts for all postsecondary schools attended. Only two prerequisites can be pending (e.g., in progress) at the time of application. Acceptance (if granted) will be conditional on receiving the required grade in the admission criteria. All final, official transcripts must be received prior to the start of your first semester.
Copy of college diploma or proof of degree