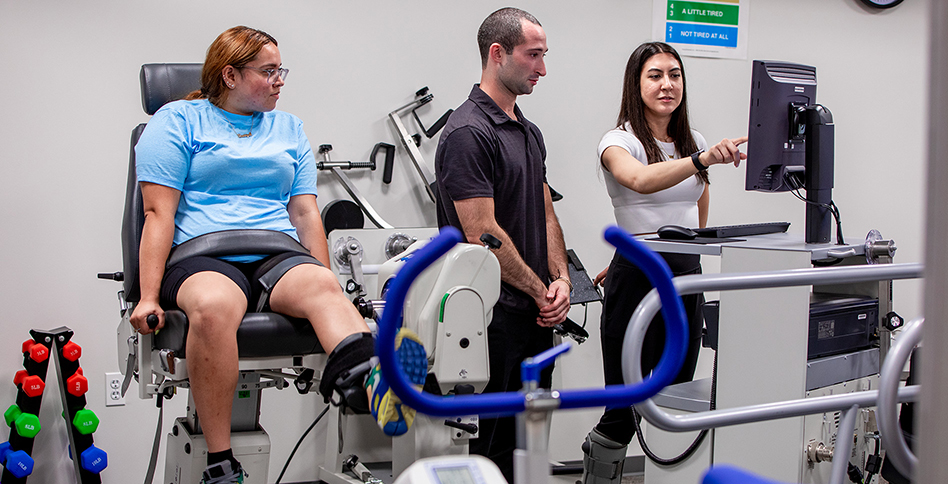 Physical Therapy, DPT
Physical Therapy is a health profession that promotes optimal human health and function through the application of scientific principles to prevent, identify, assess, correct, or alleviate acute or prolonged movement dysfunctions. Physical therapy encompasses areas of specialized competence and includes the development of new principles and applications to more effectively meet current and emerging health needs. Other professional activities in which physical therapists participate are research, education, consultation, and administration.
The three-year Doctor of Physical Therapy program provides entry-level professional education in physical therapy, beginning with Gross Anatomy and Kinesiology in the first summer. The program was granted full accreditation status from the Commission on Accreditation in Physical Therapy Education in November 2000 and is fully re-accredited through 2027.
For information on the freshman-entry early assurance combined Bachelor of Science in Life Sciences and Doctor of Physical Therapy, view Department of Biological and Chemical Sciences.
Official New York Institute of Technology Policy
Our policy states: "As a condition of admission and continued enrollment, students may be required to authorize the university to obtain a criminal background check(s). Students may be required to obtain a background check themselves or authorize clinical training facilities to conduct this check. Students may also be required to permit the results be released to New York Institute of Technology and/or to clinical facilities by the reporting agency. Offers of admission will not be considered final and enrollment will not be permitted until completion of the background check(s), with results deemed favorable by the university. If the results of the background check(s) are not deemed favorable by the university, or if information received indicates that the student has provided false or misleading statements, has omitted required information, or in any way is unable to meet the requirements for completion of the program, the admission may be denied or rescinded, or the student may be disciplined or dismissed. Students must also agree to notify the university of any convictions, guilty pleas or no contest pleas to any crime, misdemeanor or other offense and of any arrests, charges or investigations by any law enforcement authorities or professional licensing authority, which occur subsequent to the applicant's/student's submission of the Accepted Applicant/Enrolled Student Disclosure Form. Notification is required the next business day following the reportable event. If next day reporting is not feasible, the student must notify the New York Institute of Technology Doctor of Physical Therapy program chairperson as soon as possible, and in no event later than ten working days following the event."
Expected Outcomes
The Doctor of Physical Therapy program is designed to prepare students in the entry-level proficiencies needed in the practice of physical therapy. Upon completion of the program, graduates will be able to:
Determine the physical therapy needs of any patient or client through examination and evaluation
Develop and implement a plan of care to meet the individual's physical therapy needs
Demonstrate integration of the foundational sciences as they relate to physical therapy practice
Communicate appropriately and effectively with patients and families, colleagues, and the public
Adhere to safe, ethical, and legal practice
Apply sound administrative principles to the management of physical therapy practice
Apply basic educational strategies of teaching within the scope of physical therapy
Implement and integrate research methods adherent to the standards of evidence-based practice
Participate in health and wellness community-based initiatives across the life span
Accept that being a professional is a continuing process and assume responsibility for professional and personal growth and development
Program Format
The doctoral degree program is 100 credits taken over three years in a full-time, day-format only, except for occasional night and weekend coursework, as scheduled by course instructors. Attendance at all class sessions is mandatory.
Academic Standards
Academic Criteria
A 3.0 GPA must be maintained throughout the professional phase of the Physical Therapy program.
Prerequisites
Successful completion of all prior coursework (including clinical education) is required to continue in the program.
Academic Probation
Students will be placed on academic probation if any of the following circumstances occur:
GPA for any one semester falls below a 3.0
Cumulative GPA falls below 3.0
Grade Appeal
Students may appeal an assigned grade by following the procedures outlined in the School of Health Professions' grade appeal policy on the Facilities and Resources page.
Academic Dismissal/Failure
A student may be dismissed from the Doctor Physical Therapy Program if any of the following occur:
Cumulative GPA falls below 2.3 at the end of the first semester (summer session)
Cumulative GPA falls below a 3.0 at the end of the third (spring) semester of the first year
After the first year, a cumulative GPA that falls below a 3.0 for two consecutive semesters
Grade of F is earned in a course; if this occurs at any time during or after the first fall semester, the student may be given the option to repeat the course the following year, provided they were not already on probation
Second F is earned at any time throughout the curriculum
If a student is dismissed because of failure to meet the minimum standards in the anatomy and kinesiology courses, the student will need to formally reapply through PTCAS for entry the following year. Acceptance upon reapplication is not guaranteed.
Academic dishonesty/plagiarism
Non-Academic Dismissal/Failure
Students may be dismissed from the program for the following non-academic reasons:
Behavior endangering others' safety or well-being
Disrespectful behavior toward faculty, staff, students, and others
Unprofessional conduct, as defined by the professional behaviors delineated in the Department of Physical Therapy Student Handbook
Unexcused absences/lateness
Please refer to the Department of Physical Therapy Student Handbook for other pertinent departmental policies.
Graduation Requirements
Students must:
Achieve a minimum 3.0 GPA
File a completed application for graduation with the Student Enrollment Center
Obtain account clearance from the Office of the Bursar
Early Assurance Admission for New York Tech Exercise Science Students
The Department of Physical Therapy has an early assurance agreement with the New York Tech Department of Interdisciplinary Health Sciences Program in Exercise Science whereby, annually, up to four Exercise Science, B.S. students, who began New York Tech in their freshman year, may be accepted after completing their sophomore year to begin the professional phase of the Doctor of Physical Therapy program upon completion of their undergraduate Exercise Science degree.
To be eligible for this early assurance program, the applicant must have completed the first two years of undergraduate study as an Exercise Science major at New York Tech and have met the following criteria:
An overall grade point average of 3.2 at New York Tech
No science or math grades below a grade of B-
No grade of D or F in any course
At least 200 hours of volunteer/paid experience under the direct supervision of a physical therapist
A favorable recommendation by the Exercise Science faculty at New York Tech
In addition, to continue enrollment in the program and be accepted to the professional phase of the New York Tech DPT program, the student must meet the following criteria:
Maintain the overall and science grade point averages of 3.2 at New York Tech
Maintain all science and math grades at a B- or better
Only one course may be retaken one time to achieve the required minimum grade
Perform 100 hours of volunteer/paid experience with PT supervision each academic year, so the students enter the professional phase with 400 hours
Graduate from the Exercise Science, B.S. program in four years
Those in the Exercise Science, B.S. program must complete as electives all DPT requirements that are not part of their major
Formally apply to the program through PTCAS (centralized application service)
Successfully pass a criminal background check
Any accepted student will be dual-advised by faculty and staff in the Departments of Interdisciplinary Health Sciences (Exercise Science) and Physical Therapy.
Technical Standards for Admission and Matriculation
The Department of Physical Therapy is committed to the admission and matriculation of all qualified students and does not discriminate on the basis of race, ethnicity, age, gender orientation/identification, national origin, religion, sexual preference, or disability. Regarding disabled individuals, the college will not discriminate against such individuals who are otherwise qualified, but the college will expect that minimal technical standards be met by all applicants and students as set forth herein. These standards reflect what we have determined are reasonable expectations for physical therapy students in performing common and important functions, keeping in mind the safety and welfare of the patients for whom our graduates will care. These standards do not reflect what may be required for employment of the graduate physical therapist.
Technical Standards
A physical therapist must have the knowledge and skills to function in a broad variety of clinical settings and to render a wide spectrum of therapeutic interventions. In order to perform the activities required of a professional, a physical therapy student must be able to learn, integrate, analyze, and synthesize data quickly, accurately, and consistently. This is the process of critical thinking. Multiple skills and abilities required include observation, communication, sensory/motor, behavioral, and social attributes. Reasonable accommodations can be made for persons with disabilities in some of these areas, but a physical therapy student must be able to perform in a reasonably independent manner.
Observation
Physical therapy students must have sufficient vision to be able to observe classroom lab demonstrations and exercises. In the clinical setting, they must be able to observe a patient accurately both at a distance and in close proximity. It is essential to have adequate visual capabilities to assess the change of abnormalities of the musculoskeletal or integumentary systems.
Communication
Physical therapy students should have the ability to clearly speak, hear, and observe in order to elicit and gather information, describe the findings, and understand any nonverbal behavior. They must be able to communicate effectively and sensitively with fellow students, faculty, patients, and other healthcare providers. This includes the ability to read and communicate, both verbally and in writing, in English, using appropriate grammar and vocabulary.
Sensory/Motor
Physical therapy students need enhanced tactile abilities and must have sufficient motor function and muscular strength to execute those movements required in the evaluation and treatment of patients. These activities may include, but are not limited to, the ability to:
Safely handle and lift patients, guard patients during ambulation, and perform therapeutic procedures, such as joint mobilization
Adjust and position equipment and patients, which involves stooping to floor level and reaching overhead
Assist and/or resist patients, or to provide emergency care, which may involve prolonged sitting, standing, kneeling, or walking
Manipulate gauges, dials, small nuts/bolts, and/or tools located on equipment or within the Department of Physical Therapy
Palpate, auscultate, percuss, and perform other evaluatory skills in order to obtain information
Behavioral and Social Attributes
Physical therapy students must possess the emotional health required for full utilization of their intellectual abilities, and the development of mature, sensitive, and effective relationships with others, especially patients. This also includes the ability to apply knowledge of principles, indications, and contraindication for physical therapy treatment interventions. Physical therapy education requires the ability to adapt to change, including treating people of diverse ethnic and social cultures, economic status, age, and those with emotional difficulties. This requires flexibility and a spirit of cooperation, as well as motivation.
Physical therapy students utilize touch during evaluation and treatment procedures and must be able to touch others in a sensitive, professional manner, as well as tolerate being touched as part of the learning process. Professional behavior is expected, as well as attributes such as integrity, honesty, compassion, and strong interpersonal skills. Students are required to adhere to the program dress code as found in the Department of Physical Therapy Student Handbook.
Clinical Education
Students must have successfully completed all prior coursework in order to be placed in clinical education. All physical therapy students will participate in a total of 36 weeks of clinical education located in a variety of settings. This requires eight to twelve-hour days, not including commuting time. This is a full-time commitment. The student must make themselves available during the hours determined by the coordinator of clinical education. These hours will not be adjusted for the schedule of the student. Students are discouraged from working elsewhere as the clinical experience demands additional time in the clinical and independent learning setting.
Specific clinical education objectives that must be met with each completed affiliation. Applicants to the School of Health Professions should be aware that certain legal issues and/or convictions may preclude a student from being accepted by clerkships, internships, and/or field work and impact the student's ability to complete the required program courses and qualify for graduation, certification, and/or licensure. Refer to the Physical Therapy Department Clinical Education Manual for full policies and procedures.
---
Back to Top
Admission Requirements
The application deadline is October 15.
Bachelor's or its equivalent from an accredited college or university
Minimum undergraduate GPA of 3.0
Academic record that includes a balance of coursework in the humanities, social sciences, and natural sciences, including competency in English writing
Science and math grades of C+ or higher from an accredited college in the following areas (pass grades earned during the spring 2020 semester meet this GPA threshold and are transferable to New York Institute of Technology):

Two courses in general chemistry with lab
Two courses in general physics with lab
Two courses in general biology with lab, not botany
One course in general/introductory psychology
One additional course in psychology
One course in college algebra, trigonometry, or precalculus
One course in statistics
One course in human physiology with lab OR Anatomy and Physiology I and II with labs

Meet the Technical Standards for the physical therapy program
Application Materials
Submit application by October 15 through the Physical Therapy Centralized Application Service (PTCAS). Specific instructions related to the application process can be found on the PTCAS website.
Proof of a minimum 100 hours of experiential time completed by the time of application. These hours must be completed under the direct supervision of a physical therapist. It is strongly suggested that applicants have more than the minimum number of hours and at a variety of locations.
Essay detailing applicant's desire to pursue physical therapy as a career, as described on PTCAS
Two professional letters of recommendation, signed and on letterhead, with at least one from a licensed physical therapist. All recommendations must be within the last six months.
Copies of undergraduate transcripts for all schools attended. All final, official transcripts must be received prior to the start of your first semester.
Copy of college diploma or proof of degree
The Physical Therapy Admissions Committee will review completed applications. Those who qualify will be invited to the interview process. The Physical Therapy Admissions Committee will then render the final admission decision. All accepted candidates will need to complete a criminal background check.