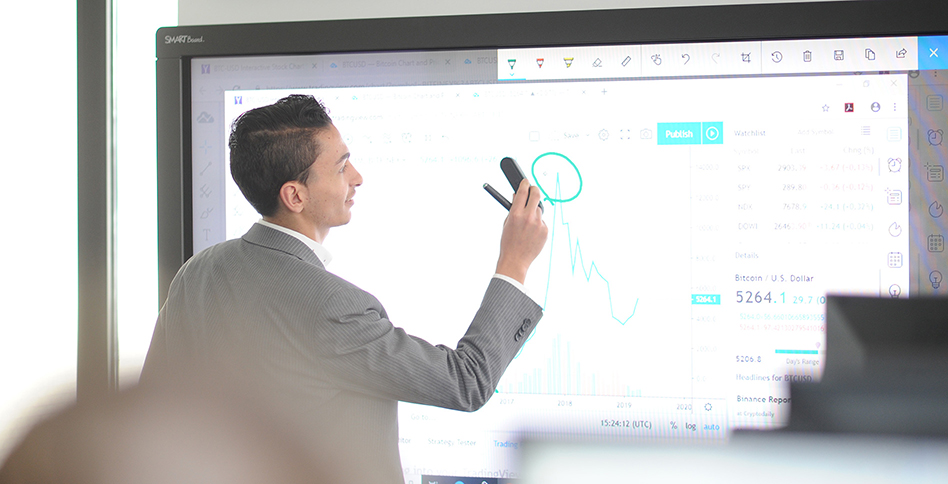 Applied and Computational Mathematics
At New York Institute of Technology, students have the opportunity to work on 21st-century technological challenges that directly affect the world in which they live. By the time they graduate, our "industry ready" students are equipped with the fundamentals needed to pursue graduate studies and are prepared to join the workforce with minimal on-the-job training. A fundamental skill set that makes a difference is the ability to create innovative computing solutions, mathematical models, and dynamical systems to solve problems in industries such as engineering, scientific and technical consulting, insurance, biotech and life sciences, artificial intelligence, and data science.
The College of Arts and Sciences has established a new undergraduate major in Applied and Computational Mathematics that will prepare students for such applied fields. Students with a strong high school mathematics record and interest in the overlapping disciplines of computer science, engineering, and physics are encouraged to major in Applied and Computational Mathematics.
After the second semester of their sophomore year and in consultation with their advisor, students may choose between the General Concentration (15 credits), Mathematical Modeling (16 credits), or Scientific Computation (15 credits).
We believe this is an optimum time to become a "mathematician." The field ranks third in the U.S. News and World Report 2019 Best Business Jobs. Of the best careers in STEM, Mathematics has by far one of the highest job growth statistics, with a whopping 20% growth per year. In the coming five years, the data science, artificial intelligence, and automation revolution areas are projected to experience a steep job rise (19% by 2026). Jobs such as software developer, statistician, computer science analyst, actuary, and operations/research analyst would be accessible through this major.
Our Applied and Computational Mathematics, B.S. degree is designed from its inception to offer a unique and modern selection of courses integrating computational methods, mathematical models, and data science with a strong focus on the foundations in mathematics and the sciences offered at New York Tech to practical, highly demanded problem-solving skills. Our program leverages our faculty strengths and is carefully tailored to provide a range of opportunities for students:
As widely demonstrated in fields such as finance, technology, and biomedicine, expertise in computational mathematics is key to adapt to a rapidly changing landscape, switch disciplines or industries with ease, and also provide innovative, disruptive solutions. Majoring in Applied and Computational Mathematics will thus uniquely position graduates in the job market.
Students armed with an undergraduate degree in Applied and Computational Mathematics who are interested in our graduate programs such as bioengineering, computer science, and data science will be exceptionally strong candidates and accelerate their graduate studies.
Upon completion of the program, students will be able to:
Demonstrate analytical skills through problem solving and logical thinking. Graduates will have the ability to ask pertinent questions to those in other science disciplines and perform suitable quantitative analysis.
Write clear, well-formulated mathematical arguments for validating a conjecture.
Apply mathematical theory to model and solve problems dealing with physical, natural, and societal problems.

Identify, formulate, abstract, and solve mathematical problems that use tools from a variety of mathematical areas, including algebra, analysis, probability, numerical analysis, and differential equations.

Use technology to solve computational problems including simulation and visualizations of models in other sciences.

Adapt to different technology platforms in math (such as Matlab and Mathematica) that are useful for mathematical computing and modeling.
Make mathematical conjectures in physical problems and use computer simulation with technological platforms to support and refute these conjectures.

Communicate clearly and effectively to diverse audiences, especially those who are not mathematical.
Develop knowledge in a mathematically related discipline such as mathematical computing/programming, physics, statistics, etc.

Apply knowledge in mathematics to other sciences and engineering.
Recognize mathematical ideas in other context.
The Bachelor of Science in Applied and Computational Mathematics should appeal students who have an aptitude for math, and will help prepare and empower them for a wide range of jobs in various, diverse, forward-leading industries.
International F-1 students who successfully complete this degree are eligible for an additional 24-month STEM OPT extension to work in the U.S. in an area directly related to their area of study immediately upon completing the customary 12-month post-completion Optional Practical Training (OPT).
Five-Year Accelerated Option
After consulting with the College of Engineering and Computing Sciences, the Department of Mathematics and Physics is collaborating with the Entrepreneurial and Technology Innovation Center (ETIC) to offer math majors an accelerated path for graduate study toward an M.S. degree in Data Science. This quickly growing field will increase a student's job marketability, and also strengthens further interdisciplinary connections among New York Tech fields of study.
Any math major with a GPA of 3.0 or higher is eligible to participate in this program. During their undergraduate studies, students would take three graduate courses in lieu of undergraduate Computer Science/General electives:
DTSC 610 Programming for Data Science, 3 credits
DTSC 615 Optimization Methods for Data Science, 3 credits
DTSC 620 Statistics for Data Science, 3 credits
The total number of credits required for the degree would not change.
---
Back to Top
This program has specific admission requirements, along with the general admission materials (below).
Admission Requirements
Criterion for admission is a demonstrated readiness for Calculus I, as determined by placement test or by an AP score of 4 (A-B version) or 3 (B-C version).
Students placed in Precalculus may be given provisional admission to this major, but should recognize that the degree will take longer to complete as a result.
Application Materials
Completed application
$50 nonrefundable application fee
Copies of transcripts of all high school work, including college-level courses. Your midyear and final grades will be required. All final, official transcripts must be received prior to the start of your first semester.
Official SAT (critical reading and math only) or ACT test scores. You have the option of submitting results from the previous or redesigned SAT. If you have fewer than 24 credits of previous college work completed, you will need to submit official scores.


SAT Code: 2561, ACT Code: 2832

Two letters of recommendation

300–350 word essay on one of the following topics:

Tell us about your career goals and why attending New York Tech would further these goals.
Describe the achievement of which you are most proud and why.