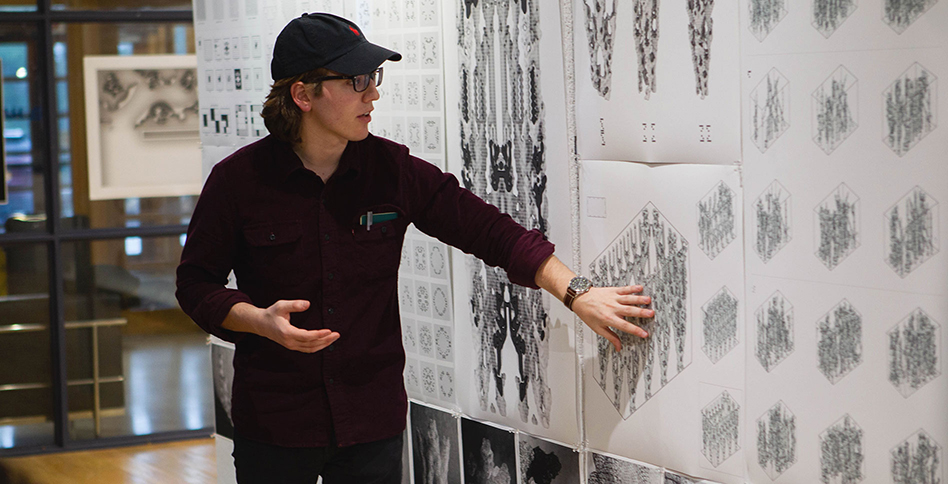 Interdisciplinary Studies
The Interdisciplinary Studies program offers a flexible, self-designed degree that educates students for a wide variety of careers and graduate studies. It is particularly suitable for students interested in combining more than one discipline and in integrating knowledge from across various fields. The program requires students to take courses in two disciplinary concentrations as well as interdisciplinary core courses that help them draw connections between their selected areas. A degree that integrates and develops competencies in several disciplines may be the best preparation for the shifting demands of the modern workplace.
The wealth of elective and online credits available in Interdisciplinary Studies affords excellent opportunities for students with prior learning experience (transfer students, veterans, and working adults) who need to complete their degrees in a compressed period of time. Transfer credits or prior life experience may also convert to New York Institute of Technology credits for a faster graduation date.
Furthermore, the flexibility of the Interdisciplinary Studies program is also ideal for students who would like to switch majors, since students' pre-professional credits from other university programs would count toward this degree, ensuring a timely graduation even if a student has spent one or two years in a different disciplinary track.
Program Components
Students in the program are paired with a faculty advisor, and together they design the student's degree map. The course of study is built around a required liberal arts core curriculum (36 credits), which introduces students to the various areas of study at the college. In addition to the core courses, each student selects two subject areas of concentration, taking at least 15 credits in each area. The 45 remaining elective credits are chosen to complete and complement the student's individual degree plan. An additional 15 elective credits may be taken in one of these areas of concentration (for a total of 30 credits), and an additional three elective credits in each of the two areas (for a total of 18 credits in each). To stay competitive, highly motivated students may decide to add a third concentration (15 credits), and/or a minor to the degree. Students may have a maximum of three concentrations and two minors. Students who select a concentration that is also offered as a minor at New York Tech, may not add that same minor to their degree.
Interdisciplinary Studies has three required courses offered by the program (and only two for transfer students):
Interdisciplinary Career Development (IDSP 101) introduces students to a range of career possibilities and interdisciplinary skills (freshman only).
Foundations of Interdisciplinary Research (IDSP 310) introduces students to the historical contexts of Interdisciplinary Studies and the development of academic disciplines.
The Capstone Seminar (IDSP 410) concludes the college experience by involving students in research activities related to their concentrations.


Instead of the Capstone Seminar, students can complete an Internship (IDSP 450) or a Senior Project with a faculty member (IDSP 403).
Areas of concentration may be selected from the following categories. Program advisors have a full list of courses that can be used to fulfill these concentrations:
Architecture and Design
Behavioral Sciences
Biological and Chemical Sciences
Biology
Business
Digital Art and Design
English
Finance
Health Sciences
Humanities*
Information Technology
Management
Marketing
Mathematics/Physics
Medical Humanities
Psychology
Self-Designed Concentration
Social Sciences
Technical and Professional Communication
Technology
* The humanities concentration may include courses in such areas as literature, philosophy, art history, architectural history, or film history.
The program in Interdisciplinary Studies offers three degrees:
Bachelor of Arts
Bachelor of Science
Bachelor of Professional Studies
Although all students complete the same core courses, individual degree plans differ significantly:
Students who complete at least 75 percent (90 credits or more) of liberal arts courses will be granted the Bachelor of Arts.
Those who complete at least 50 percent (60–89 credits) of liberal arts courses will be awarded the Bachelor of Science.
The Bachelor of Professional Studies is granted to those students with fewer than 60 credits of liberal arts courses.
---
Back to Top
This program follows our general admission requirements.
Application Materials